If you've been reading my blog, you'll know how much I go on about the importance of building your email list. But let me ask you this question: What happens after someones opts in to your freebie (aka opt-in, aka free offer, aka lead magnet) and signs up to your list?
At the bare minimum, I'm guessing you're delivering the promised free resource in a welcome email.
But what do you do after that?
I'm hoping your answer is not "Nothing."
If it is, that's okay. I'll let you off for now because we're going to change that. (And if you answered "I don't even have an opt-in!", you can go ahead and read the Beginner's Guide to Email List Building.)
Now let's get back to the topic of this blog post: sales funnel. If you've been in the online business world for any time at all, you will have heard of the term sales funnel. But perhaps your eyes have always just glazed over it because, let's be honest, a sales funnel doesn't sound exciting, does it? Or perhaps you just don't understand what it is and why you need one in your business. Or you feel overwhelmed by the idea because you just don't know where to start.
Why do you need a sales funnel?
Because you don't want to be hustling for every single sale! You've already spent so much time creating content, blog posts, products, services, marketing materials, social media posts, etc etc. Wouldn't you rather put a system in place so that you can bring in leads through an automated process, during which you can naturally introduce your paid offers and make sales?
Yes?
Well, that's what a sales funnel does.
A sales funnel is basically a process through which you bring potential customers from one stage to another until they're ready to make a purchase.
Sales funnel in a nutshell
A sales funnel doesn't have to be complex. And here's an example of a simple funnel that you can set up in a few hours.
Step 1: For online businesses, a funnel begins when someone lands on your website. This could be your home page, or a blog post, a purpose-built page that's been designed to promote your freebie, or any other page that serves a specific purpose. You should be sharing helpful information that provides value to your visitors and establish your expertise in your field.
Step 2: While the person is browsing your site, or reading your blog post, you offer the person a chance to receive your free resource, in exchange for their email address.
Step 3: Once the person is on your email list, you can send them a sequence of emails that provide even more value, help them with a problem they need solving, in order to build trust and authority.
Step 4: In the email sequence you can share your paid offer and invite them to purchase.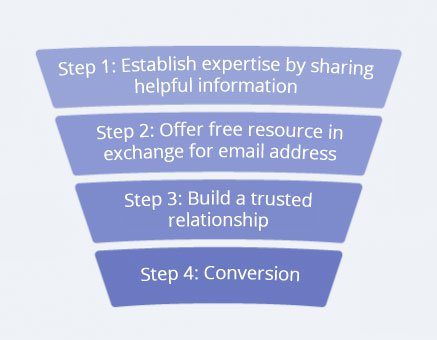 The goal of the email sequence is to educate and support your subscribers on their buying journey. It's just like when you go and buy a new kitchen and that sales person explains everything and helps you find the perfect kitchen for you.
How many emails do I need?
How many emails you have in the sequence (Step 3) is entirely up to you. It can be 2 - 3 emails. Or 5. Or 7. There isn't a set number of emails that will get people to purchase from you. You need as many emails as you need to take your subscribers from whatever point they're at to the point where they're ready to purchase.
Now, it should be obvious from the steps above that before you can create a sales funnel, you'll need a few things in place first.
A free offer (to build your email list).
A paid offer: This can be a service, a product, an online course, an ebook, an in-person training course, whatever.
An email marketing service (Active Campaign, MailChimp, Convert Kit, InfusionSoft, etc) so you can automate the whole process of sending emails.
Obviously you'll need to spend time writing the emails for your email sequence. And that's where most people procrastinate. My advice would be to just get started. Either write them in one sitting with your favourite drink and a "I'm going to get this done" attitude, or block out time in you schedule to get them written over several days.
A framework to help you get started
To help you get started, here's an example of an email sequence:
Email 1: Welcome email and delivery of your freebie. Share a little about yourself and what you do. Links to your social media profiles so they can connect with you more.
Email 2: Follow-up email to check in with your new subscribers. Include the link to the freebie again and ask them if they have questions or if anything is unclear.
Email 3: A quick tip related to the freebie to offer additional value and show your expertise.
Email 4: Another quick tip. Or you can talk about common roadblocks related to the frebie and how to solve them.
Email 5: Share how what you do can help them with their problem. If you have a past client example all the better. Share info about your paid offer and include a link to purchase.
Email 6: More detailed information about your paid offer. Include FAQs and a few testimonials if you have them.
Email 7: Last reminder about paid offer and how it will benefit them + a couple more testimonials.
Email 1 should be sent out as soon as possible after someone signs up. The rest of the emails can be sent out every 2 - 3 days, whatever you feel is best for your audience.
There you go. Now you have no excuse not to put your sales funnel in place. Leave a comment below and let me know how you get on.