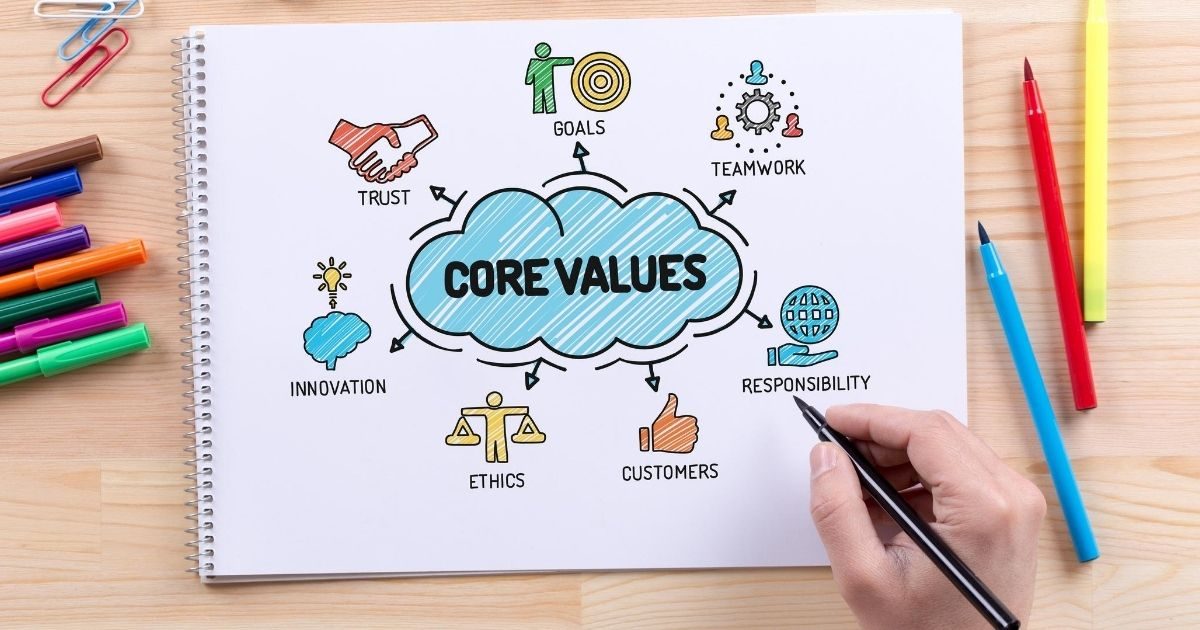 It may not seem to be a priority to define your business core values, but the sooner you make the effort, the faster you'll reap the rewards.
Simply put, core values are a high-level checklist for your business; they help you and your employees define a consistent way of working that breed deep characteristics for your brand and reputation.
When you have your business core values in place and you consciously check in with them, every product or service you deliver reinforces your values to your customers, to yourself and your team.
Developing business core values adds texture and character to your brand and is one of the best ways to breathe authenticity and authority into everything you do. And since authenticity and authority are two vital components of all of your marketing efforts, it follows that developing your core values is an important aspect of your business that you shouldn't ignore.
So, how do you define and develop your business core values?
(1) What are business core values?
Business core values are very similar to individual values. They are the essence of your business identity - your principles, beliefs, philosophy and ways of doing things.
They are the guiding principles your business employs to manage its internal processes as well as its relationship with your clients and potential customers.
The list of possible values is endless but here are some common ones:
Trust
Passion
Transparency
Accountability
Creativity
Pride
Respect
Boldness
Sense of adventure
Simplicity
Pushing boundaries
Problem-solving
Innovation
Diversity
Quality
Exceptional customer care
Equal opportunity
Fun
Environmental responsibility
Social responsibility
Human rights
Mind-body connection
Collaboration
(2) Make a list
Now you know what business core values are, you can begin to brainstorm values that are important to you. Those that you love and those that you hate.
It's important to look at both sides of the coin (the good values and the values you don't like). If you have a value you dislike, then it's not something you should incorporate into your business core values. If you do, you'll end up feeling out of alignment with your business.
Your list should include:
Values you like and dislike
Other people's brand values that inspire or repel you
Questions you might ask yourself:
What's important for my business?
What's important to me?
How do I want others to view my business?
What would make me delighted with the way my company operates?
In what way is my business different from my competitors'?
What values do my competitors have (or appear to have)?
What would make me walk away from your business?
Look into other people's brand values. Are there any that you might like to add to your list? Look for the values that stir something in you, and be sure to list those that you like and dislike.
You can research other brands by searching for examples online, or looking at the brands you love to see if you can determine what their brand values may be.
Tip! You don't need to be accurate about the brand's values - your perception of their values is all you need.
(3) Distill more values from values you dislike
Don't just discard the values you dislike. You can use them to find more values that you care about.
For each value you dislike, think about what the opposing value is. There's a high chance that the opposite is something you're very passionate about.
For example, if you're turned off by exclusivity (which is a brand value that works for many businesses), chances are that you're passionate about building communities around your brand.
When you've completed this exercise, you'll have more positive values to add to your original list.
(4) Consolidate your values
Now you've got your list of values, run through the list and highlight the most meaningful values on the list that you know you'd want to include in your business.
These will be the base of your core business values.
Tweak your values until they feel complete and fully representative of your business. Et voila! You've nailed your business core values - congratulations.
(5) Display your values proudly and clearly
The final step is to document your values and keep them close by.
If you're a one-person band, make a point of reviewing your values regularly and to remind yourself of how you want to operate your business.
If you have a team, make sure everybody knows the core business values and understand that they need to operate within those values and stay consistent in the messages your business puts out.
---