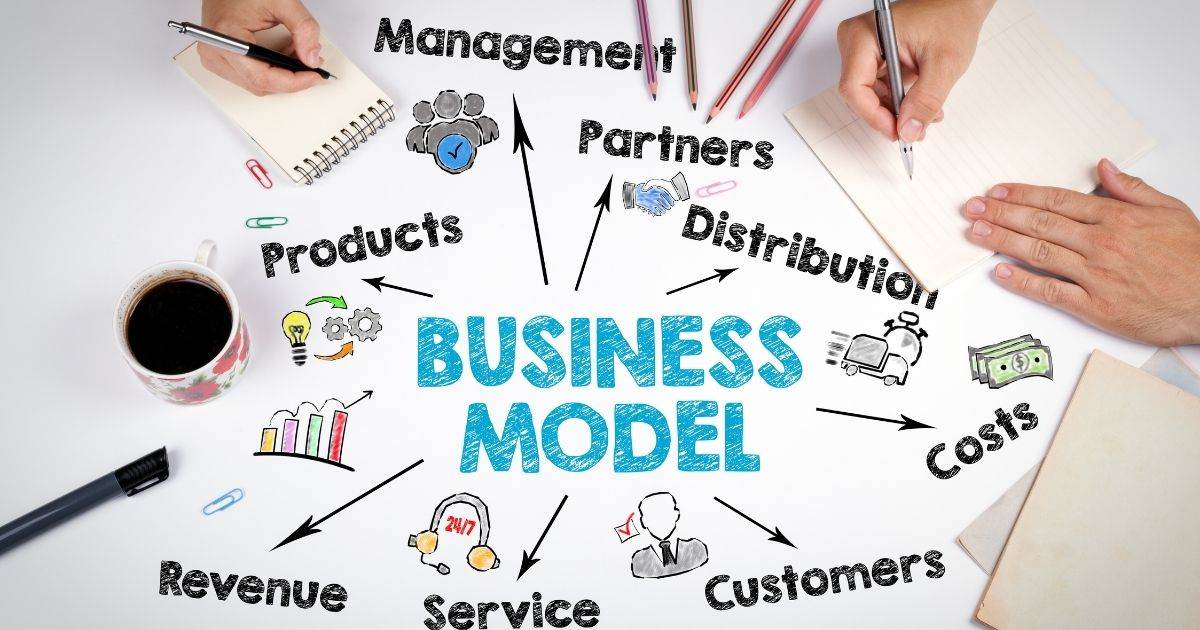 The way you run your business will be influenced by the lifestyle you desire. The success of the product or service your new business proposes will be influenced by the value you can demonstrate to potential customers. Bring these two together and you'll be a happy business owner with satisfied customers.
In this post, you'll go step-by-step to create the business that's right for you, and choose your first product or service to launch.
Choose Your Business Model
A business model is the way a company sells products and services to its customers. Different types of business models suit different types of businesses.
The growth of digital products and ecommerce have moved business a long way away from the brick-and-mortar stores of the past. These, of course, still exist and they need manufacturers and distributors behind them to make them work. But there are many other models available to the start-up entrepreneur.
Let's look at three basic ones:
(1) Product/Service
The business makes and sells its own products and services. These can be packaged and distributed either online through ecommerce or in a traditional brick-and-mortar store. This is probably the most common approach.
Here are some examples:
A marketing consultant who sells a consulting service for a monthly retainer fee.
A private health coach and trainer who works one-on-one with local clients, but also sells an online course with group health coaching.
An aromatherapy expert who has a local store selling oils and diffusers, and also has an ecommerce store online.
(2) Reseller
Resellers buy other people's products and sell them to make a profit based on the price difference.You can make a business out of this as do many eBay and Amazon sellers.
(3) Person-to-Person Exchanges
The business essentially brings buyer and seller together and takes a transaction fee. Dating sites are an example of this. This can be very lucrative. Airbnb is another example of this and it generates a huge revenue.
How to Choose Your Business Model
When you're choosing the best type of business for you, you need to consider your big "why." Running your own business can have some drawbacks, depending on your business model.
For example, if you want the freedom to travel and work from anywhere, then having a physical store that has to be opened every day isn't going to be right for you. Instead, you could consider an ecommerce site that can make sales without you needing to be there in person.
On the other hand, if you prefer working face-to-face with clients, then you'd be better off avoiding online courses and programs and instead offer in-person coaching services.
To select your main business model, take your business idea and think about your lifestyle vision and your values. Then, look at the most common options described here and decide on the model you'll use as your starting point.
Define Your Unique Selling Proposition (USP)
You're a lot closer to launching your business now that you've decided how you'll operate your business.
Next you need to be sure about the value you can offer to your potential customers. You do that by getting clear on your unique selling proposition (USP).
Your USP is essentially the main competitive advantage you have over other businesses offering products and services that are similar to yours.
In essence, your USP tells potential customers why they should buy from you and not from your competitors.
Your USP should concisely tell your prospects:
How your product or service can solve problems in a unique way - What do you do that's different?
What they can expect if they purchase your product or service - What do you do that's extra?
The advantages of doing business with your company over your competitors - How do you differentiate your offering from the others out there?
If you're not sure what this could be, there are many things you can add. Some don't cost you any money but others do. For example, if you decide to provide ultra fast delivery, then you may need to employ extra staff to deal with this or pay for a premium delivery service.
Here are some examples of USPs from well-known brands:
Domino's Pizza: "Fresh, hot pizza delivered to you in 30 minutes or less or it's free."
Death Wish Coffee: "The world's strongest coffee."
M&M's: "Melts in your mouth, not in your hand."
FedEx: "When it absolutely, positively has to be there overnight."
Assess the Competition
As you focus on defining your USP and deciding how you'll differentiate yourself, it's essential to know what's already on the market.
You conducted some research in a previous post about the competition. You made some notes, which you can add to as you take the research deeper to discover what's selling, to whom, and at what price. Above all, you want to find out what value the customer feels he or she is getting.
A mix of online and offline competitor research will help you compile this important information.
Use search engines like Google to see what your closest competition is not doing very well. Look closely at where there might be a gap for you to add value.
Check out review and recommendation sites. For example, on Amazon look at the one and two-star customer reviews. They'll tell you what's letting the product or service down in the eyes of the customer. Five star reviews are the ones you're aiming for, so what makes this product five stars according to buyers?There might also be specific sites that relate to your business (e.g. TripAdvisor will be useful if you're in the travel or restaurant business).
Read consumer magazines which rank products and services based on feedback from testers. For example, Consumer Reports in the USA and Which in the UK.
Play the mystery shopper. Get out in your area and visit stores, ring up suppliers, follow-up testimonials from past customers. Find out why purchasers are happy and unhappy with a competitor's product or service.
From your research you'll have identified the pros and cons of similar products or services which are already selling.
Your Minimum Viable Product (MVP)
It's a crucial step to identify your USP. But you're not ready to market yet. Don't be tempted to go for a big launch with a product or service that you think people want, with fingers crossed behind your back.
Take a tip from Lean Startup Methodology. This has as its premise that every startup is a grand experiment that attempts to answer a question. The question is not "Can this product/service be created?"
Instead, the questions are:
"Should this product/service be created?"
"Can we build a sustainable business around this set of products and services?"
The way it works is to:
Trial a product or service ("Good is good enough" for a trial basis).
Get feedback and listen to it.
Make adjustments based on the feedback.
When satisfied, market the product or service widely.
The trial product for a new business is sometimes called a minimum viable product (MVP) which is the most pared down version of a product or service that can still be put on sale as it has just enough to offer to early customers.
It has three key characteristics:
It has sufficient value to be offered for sale and to find customers even in its initial form.
It delivers on its promise and retains early adopters.
It provides a feedback loop to guide future development.
Through the feedback loop, you then work towards improvements before you market it on a grander scale. This will be the first of many products or services you offer in the lifetime of your business, so it's good to have a clear starting point. And, to begin with a good chance of selling something that people actually want.
Based on the information you've put together so far in this blog post series on your target customer, your business niche, and your marketplace research, answer these questions:
What product or service do you propose to sell? What is the most pared down version that will still be a valuable purchase?
How did you check out that idea? Did you do enough research?
Who is it for? Is it right for your target customers?
What will it solve for them? What is its USP?
How will you sell it to customers? (E.g. membership site, store, ecommerce, trade fairs, farmers' markets, etc.)
Test Your MVP
To be as certain as you can that your idea will be a success, test it out with a small segment of your target market.
Remember in a previous post you made notes on where your ideal customers hang out? This is where to go now to find potential testers. Of course, if you already have a few customers or know of suitable people to approach to test your MVP, then do that too.
Make it clear that you're offering something valuable in exchange for getting honest feedback.
For example, you could offer:
A discount on the price, like 50% off.
A free sample.
A free product (they just pay shipping and handling).
Here's are some more detailed examples:
An app developer who advertises for a group to beta-test a new app for free.
A start-up restaurant which gives away free samples in the neighborhood before deciding what should go on the menu.
A business coach who offers a new online course at half price.
Your MVP is going to depend on your product or service, so get creative. Make sure you have a way to collect feedback (e.g. on a Facebook group page you set up, or on an email list).
This trial is a great way to test whether your idea appeals to your target audience, and to collect positive comments. You'll get priceless feedback so that you can make changes that will maximise sales later. At that point, you will already have established customers, and your product will have helped people solve real problems.
Take Action
Based on your lifestyle vision and your values, decide on a business model as your starting point. Define your Unique Selling Proposition. Then design your Minimum Viable Product.
---
You can read the whole Starting a Business series here:
Part 1: Develop a Success Mindset
Part 2: Define Your Driving Vision and Values
Part 3: Pick the Right Business for You
Part 4: Identify Your Niche & Target Customer
Part 5: Choose a Business Model
Part 6: Set Up the Business Essentials
Part 7: Start Branding Your Business
Part 8: Choosing the Right Pricing Strategies
Part 9: Set Up Your Marketing