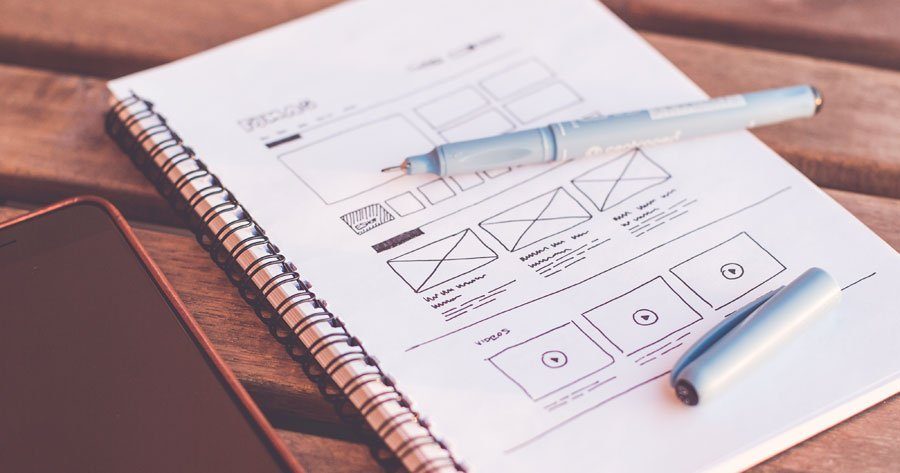 Very few people will buy from you the first time they come across you, so it's important that you capture the email addresses of your visitors so that you can communicate with them in the future to build relationship and trust. That's the whole point of building your email list. But if you're not adding your sign-up form to all the right places on your website, you are missing out on all the potential subscribers who don't see your form.
In this blog post I'll share with you the 10 high-converting places to put email sign-up forms on your site.
No time to read this right now?
No problem! Download a PDF version so you can refer to it at your leisure. Just let me know where to send it. It takes 10 seconds.
Yes! Send me the PDF
1. On your home page, above the fold
Above the fold? Where's that? The term refers to the upper half of the front page of a newspaper. This is the area that is visible when the papers are folded and displayed on stands. Nowadays, the phrase is also used to refer to the upper portion of a web page that's visible without the user having to scroll down. Here's a great example from byregina.com: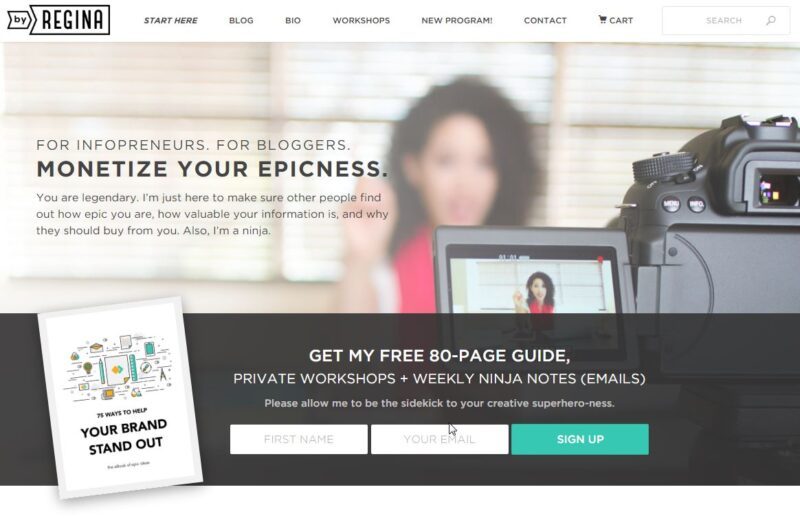 2. Sidebar
The top of your sidebar is one of the most visible places on your website and your visitors will be used to seeing a sign-up form there. So I would definitely recommend that you include a sign-up form there.
3. After each blog post
At the end of each of your blog posts is a great place to add a sign-up form. Why? Think about it. If someone has read to the end of your blog post, they have clearly enjoyed your content. So now it's a good time to ask them if they want more of your work.
Here's an example you'll find on justagirlandherblog.com: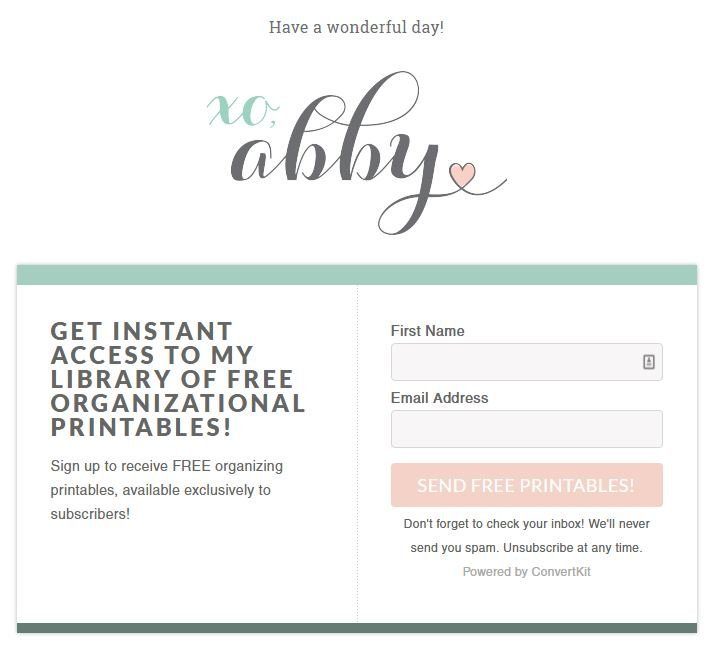 4. Footer
Many people ignore the importance of the footer and use it almost as an appendage for unimportant links. But a well-planned footer should contain important information and content to direct your visitors to what they should do next. And it is a great place to put your sign-up form. Here's a great example from xosarah.com: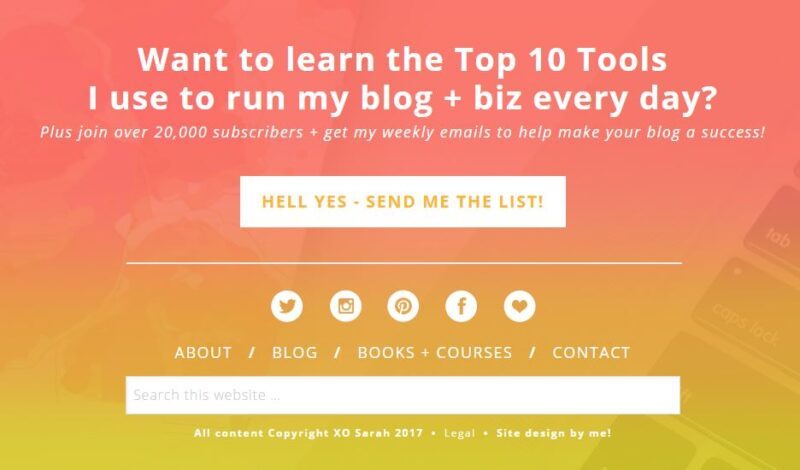 5. Your resource page
A resource page is a page on your website with a list of helpful links and resources that are specific to your niche. Example resource pages (and you'll find a sign-up form at the bottom of both of these):
https://www.muitsun.com/marketing-resources/
http://www.copyblogger.com/magnetic-headlines/
https://problogger.com/recommended-blogging-resources/
6. A dedicated landing page
You should definitely consider creating a dedicated landing page to collect email sign-ups. A major advantage of a landing page is the lack of distractions. There are no menus and no links to go off the page. Its single goal is to get people to sign up. Check out this example by Wistia.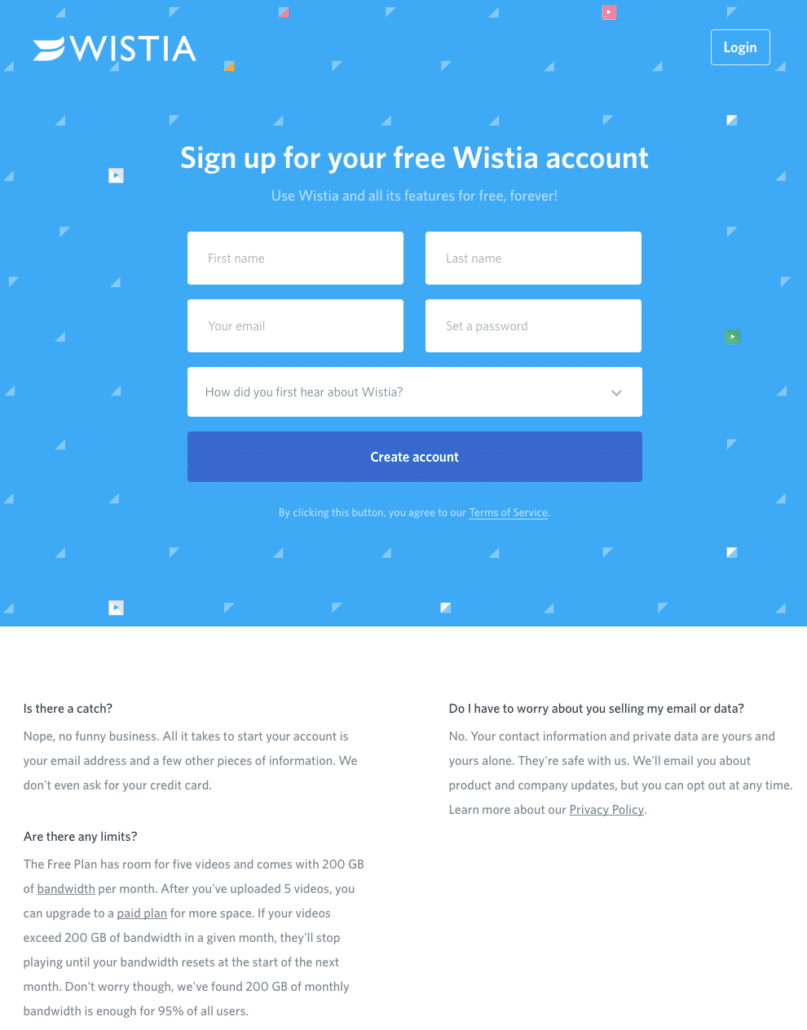 7. Timed popup
I'm sure you've all seen popups before, where a sign-up form appears with the background dimmed. Opinions are divided about popups as to their effectiveness and level of annoyance to visitors. My advice is to always test and see if it works with your target audience.
A timed popup appears when a visitor has been on your site for a certain period of time. For example, you can set one to appear after 20 seconds.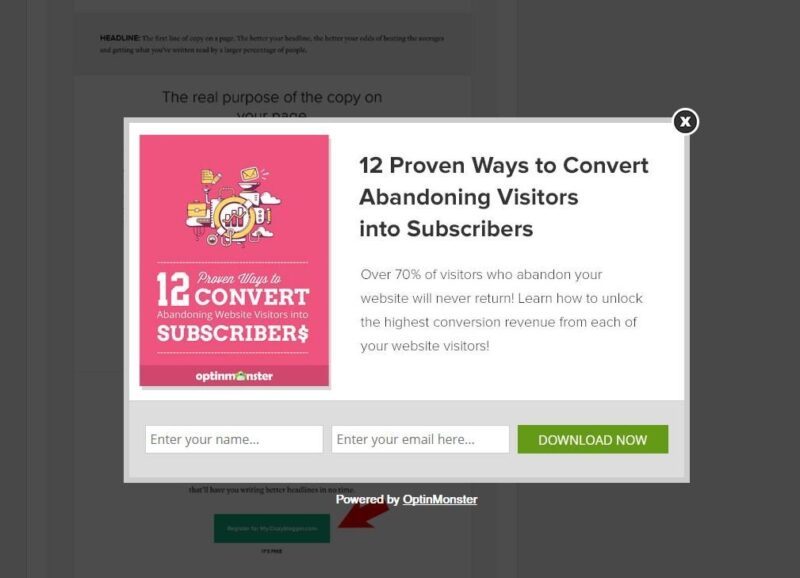 8. Exit-intent popup
An exit-intent popup works in a similar way as a timed popup, except that it appears when a visitor is about to leave your site. Again, test and see if it works with your target audience.
9. Floating bar
A floating bar stays visible at all times and it's a great place to show your sign-up form. It can either appear at the top or the bottom (or both!) of your website.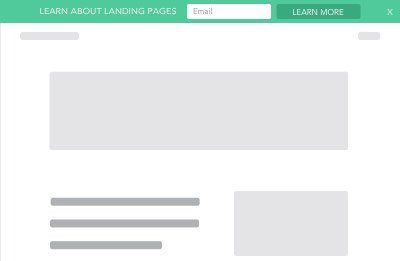 If you use MailChimp here's a plugin that will create a floating bar for you:
https://en-gb.wordpress.org/plugins/mailchimp-top-bar/
10. Your About page
People like to find out more about you and your business. That's why your About page is one of the most frequently visited pages on your site. So make sure you have a way of capturing email addresses there. If someone feels a connection with you, it's a great time to ask for that email address!
Found this post useful?
Let me send you a PDF version so you can refer to it at your leisure. Just let me know where to send it. It takes 10 seconds.
Yes! Send me the PDF