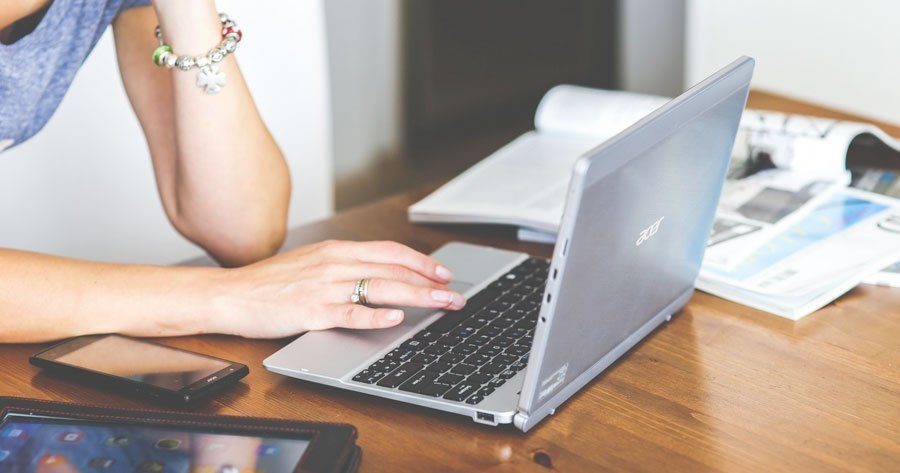 Myth #1: If you build it, they will come
If you fall for this one you will have to wait for a long time. No matter how great your blog post is, if nobody knows it exists, it's just a waste of your time and effort.
Unless you're blogging 100% for fun, your blog is there to showcase your expertise, build connection and trust with your audience, and establish your authority in your field. None of that is going to happen if nobody knows your blog exists.
Writing the blog post is the relatively easy part. You have to be prepared to hustle after you hit publish and market your content strategically and consistently if you want to see results over time.
Myth #2: You have to blog every day
It amazes me that you still hear plenty of people saying that you should blog every day to drive traffic. But unless you're a portal like Social Media Examiner, with a large number of contributing writers, blogging daily is next to impossible for us solopreneurs.
I'm all for blogging consistently. To me this means coming up with a schedule and routine that makes sense for you and your business, and then being disciplined enough to stick to it in order to grow your blog and following.
If you try to blog daily, or even weekly, but you just can't keep up, what will happen is that you will write something because you feel you have to write something. You will end up filling your blog with irrelevance and your content will become valueless to your readers.
Bottom Line: Don't focus on frequency. Focus on quality and consistency. Find a number that works for you (whether it's once a week, once a month, once every two weeks of three times a month) and stick to that number. Plan an effective publishing schedule with the topics that are relevant to your niche. And with strategic and consistent marketing, you should start to see more traffic coming in.
Myth #3: You have to be a good writer to blog
"I'd love to blog but I'm not much of a writer." The truth is, you don't have to have a degree in English or be a budding author to blog. As long as you can get your points across and teach your readers something they want to know, you can blog. Writing well helps, of course, but the writing is only a small part of blogging. And you can certainly learn to become a better writer by simply writing more. (If you feel that you need help, here's a handy guide to help you improve your writing.)
If you go into freeze mode when you think about blogging, approach it differently. Imagine if a friend is asking you to explain a concept in an email. I bet you'd be able to explain it eloquently and succinctly. And that is essentially what blogging is about. It's about explaining something to another person in writing. So focus on that and don't get too hung up on perfect grammar or getting everything super polished.
Myth #4: Blogging is only about written content
It's true that most people will think about written content when they think about blogging. But, you don't have to produce just written content for your blog. If you're not a writer there are other types of content you can use:
Videos
Photos
Podcasts
Drawings
Cartoons
Journals
Recipes
You can be as creative as you like. There are no set rules when it comes to blogging!
Myth #5: Blogging is hard / easy
In some ways blogging is not hard. You can set up a blog relatively quickly. And if you have something you feel passionate enough about, you'll have enough ideas to start writing a few blog posts. And voilà, you have a blog.
But that doesn't mean that blogging is easy either. Not only do you need to spend time producing quality content on a consistent basis, you'd also have to get smart about your marketing to drive traffic to your site. It takes a lot of hard work and dedication. You can't create a successful blog that brings in business overnight. Blogging is definitely a marathon, not a sprint.
This is not to put you off blogging, but it's important to stress that as with many things in life, you get out what you put in.
Myth #6: Blogging is a fad
I don't have a crystal ball and I can't see into the future, but blogging is still one of the best ways of attracting traffic to a website. According to a HubSpot study, B2B companies that blog only 1-2 times per month generate 70% more leads than those who don't blog.
Blogging will no doubt evolve over time, but the internet is likely to remain an integral part of our daily lives for quite a while. People will continue to look for information online, and you can provide that information on your blog.
Bottom Line: Blogging is an important marketing tool for your online business and you should find a way to get started if you are not already blogging.
Myth #7: Your blog posts should be x words long
A few years ago it was "the shorter the better". Now it seems that Google favours blog posts that are over 2000 words long. Personally I've never worried too much about word count.
If you produce good and relevant content that your audience wants to read and you can get it in front of them, it doesn't matter whether it's 300 words or 3000 words. If your content is dull and boring, would I really want to read 3000 words of it?!
I like to focus on word value rather than word count. Give your readers what they want to read, in however many words are required to cover the topic in an engaging and meaningful way.
Myth #8: Your niche is too saturated already
Who wouldn't want to blog about something that nobody else is blogging about? The truth is, you're going to have a hard time finding a niche that is not already taken. But that's okay. In most niches, there is enough of an audience for the different blogs to co-exist. What will help you stand out is making it super clear what sets you apart.
Myth #9: There is no benefit blogging for your business
Your business blog is a marketing channel (just like social media, email marketing, podcasts, live streaming, etc) that can help you grow your business.
Here's why you should blog for your business:
It drives traffic to your website.
It helps convert that traffic into leads.
It establishes your authority in your field.
It builds relationships with potential and existing clients / customers.
It creates opportunities for other people to share your content.
It opens up collaboration opportunities.
To me, blogging for your business just makes sense.
Myth #10: You can write about anything you want
Writing about anything that comes into your mind sounds great, doesn't it? Unfortunately it doesn't quite work like that. Your readers come to your blog to read what they want to read about. That's why it's important to do some topic research for your niche. Always remember, unless you're blogging for fun, you're writing for your target audience, not for yourself. Your business blog needs to centre around your niche. It's the place where your target audience can find solutions to the problems and challenges they're facing. This is how your blog draws your target audience into your business.
Don't have time to do blog topic research? You can check out my Nail Your Blog Topics service.
Check out my "Nail Your Blog Topics" service
Final words
I hope this post helps clear up some of the half-truths about blogging and motivates you to blog for your business.
If you have a blogging myth you'd like debunked, I'd love to know!